RISC-V Related Publication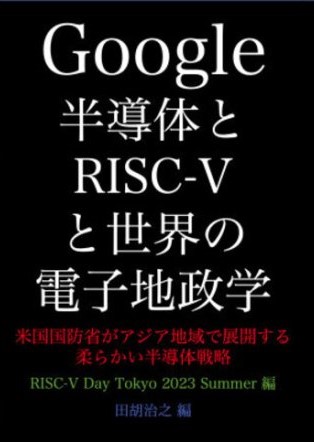 『Google半導体とRISC-Vと世界の電子地政学 RISC-V Day Tokyo 2023 Summer版』
単行本: 304ページ(147×209ミリ)
定価(本体1818円+税)
編集者:田胡 治之
発売日:2023年6月20日 第一版第1刷 発行
販売先:主要書店、通販サイトで販売
発行: 株式会社ソハコ
発行者: 河崎 俊平
発行: 株式会社ソハコ
書籍コード:ISBN 978-4-911019-00-9
分野コード:C0034
定価:(本体1818円+税)
分野:テクノロジー
CPU分類:B2-53 ハードウエア開発 コンピュータアーキテクチャ
B8-02 深層学習 ディープラーニング
JANコード 192-0034-01818-7
"Google Semiconductors, RISC-V, and World Electronic Geopolitics – RISC-V Day Tokyo 2023 Summer Edition"
Single Volume: 304 pages (147x209mm)
Price: 1818 yen (excluding tax)
Editor: Haruyuki Tagosu
Release date: First edition, first printing on June 20, 2023
Sales: Available at major bookstores and online shopping sites
Publisher: Sohako Corporation
Publisher: Toshihiro Kawasaki
Publisher: Sohako Corporation
Book Code: ISBN 978-4-911019-00-9
Field Code: C0034
Price: 1818 yen (excluding tax)
Field: Technology
CPU Classification: B2-53 Hardware Development Computer Architecture
B8-02 Deep Learning
JAN Code 192-0034-01818-7
KINOKUNIYA WEB STORE 紀伊國屋書店 https://www.kinokuniya.co.jp/f/dsg-01-9784911019009
株式会社書泉 https://shosen.tokyo/?pid=175657793
In November 2022 we plan to publish a pilot version of a book about open source trends in semiconductor design, prototyping and manufacturing.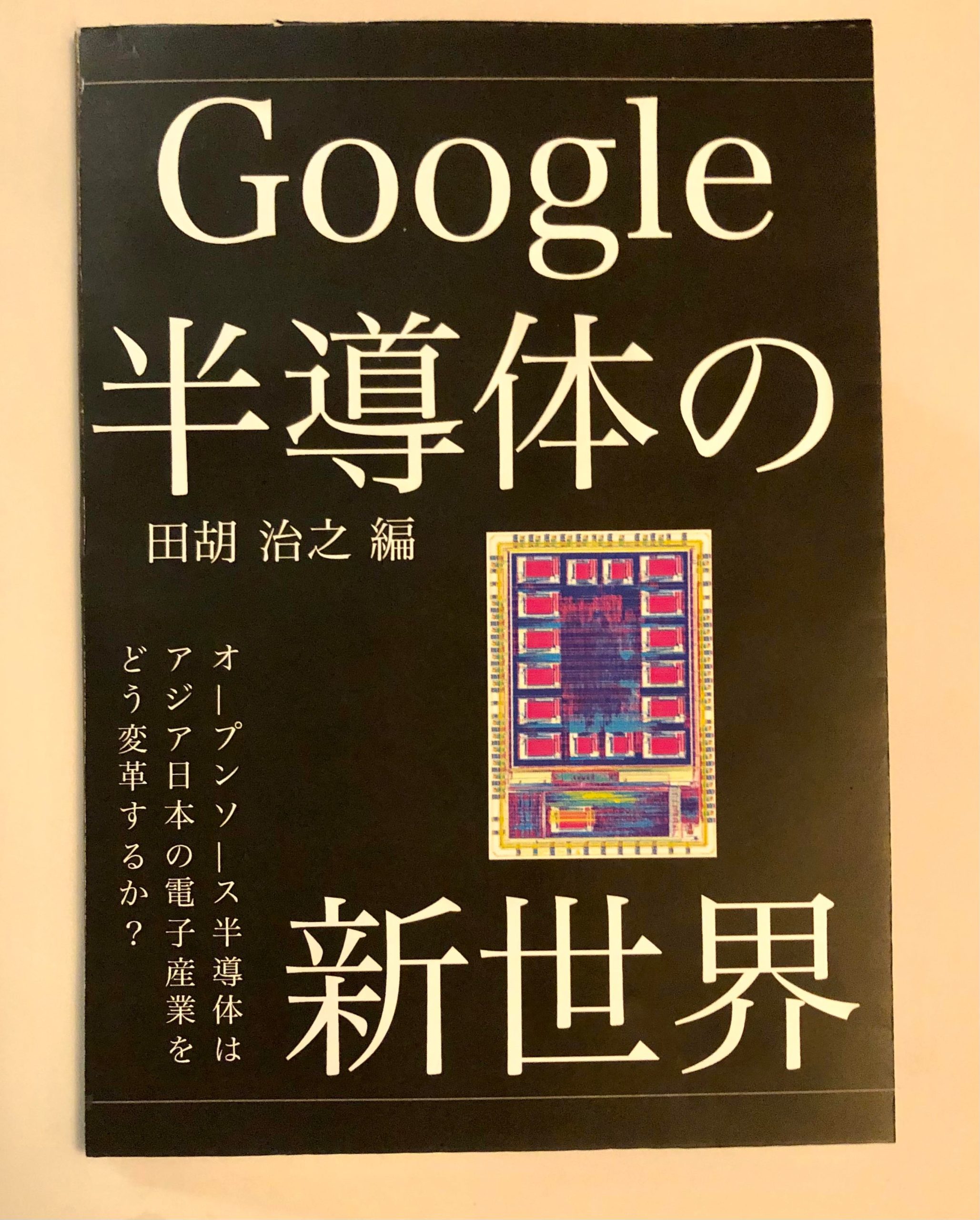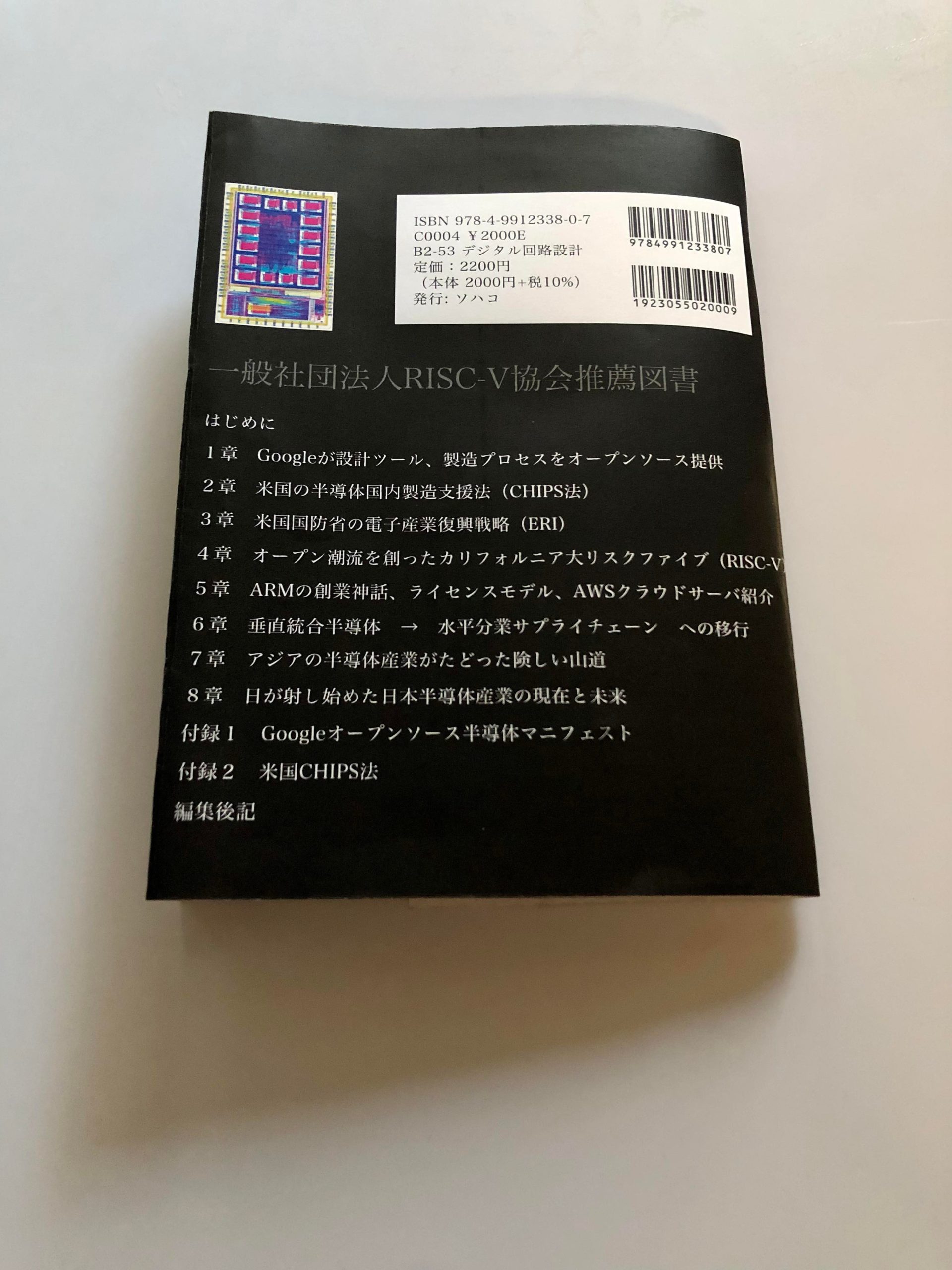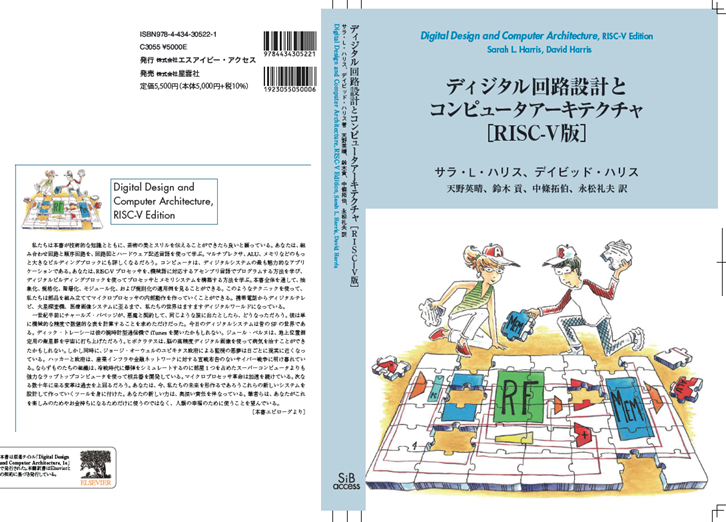 Prof. Amano Hideharu of Keio University and his team have completed the Japanese translation of "Digital Design and Computer Architecture: RISC-V Edition" by Sarah L. Harris and David Harris. The first edition was published June 10, 2022.
『ディジタル回路設計とコンピュータアーキテクチャ[RISC-V版]』サラ・L・ハリス、デイビッド・ハリス著、天野英晴、鈴木 貢、中条拓伯、永松礼夫訳
書籍コード:ISBN978-4-434-30522-1
分野コード:C3055 ¥5000 E
発行: 株式会社エスアイビー・アクセス
発売: 株式会社 星雲社
定価5,500円(本体5,000円+税10%)
 
In 2021, Chisel study group translated "Digital circuit design starting with Chisel" into Japanese. This will be published by the RISC-V Association.
『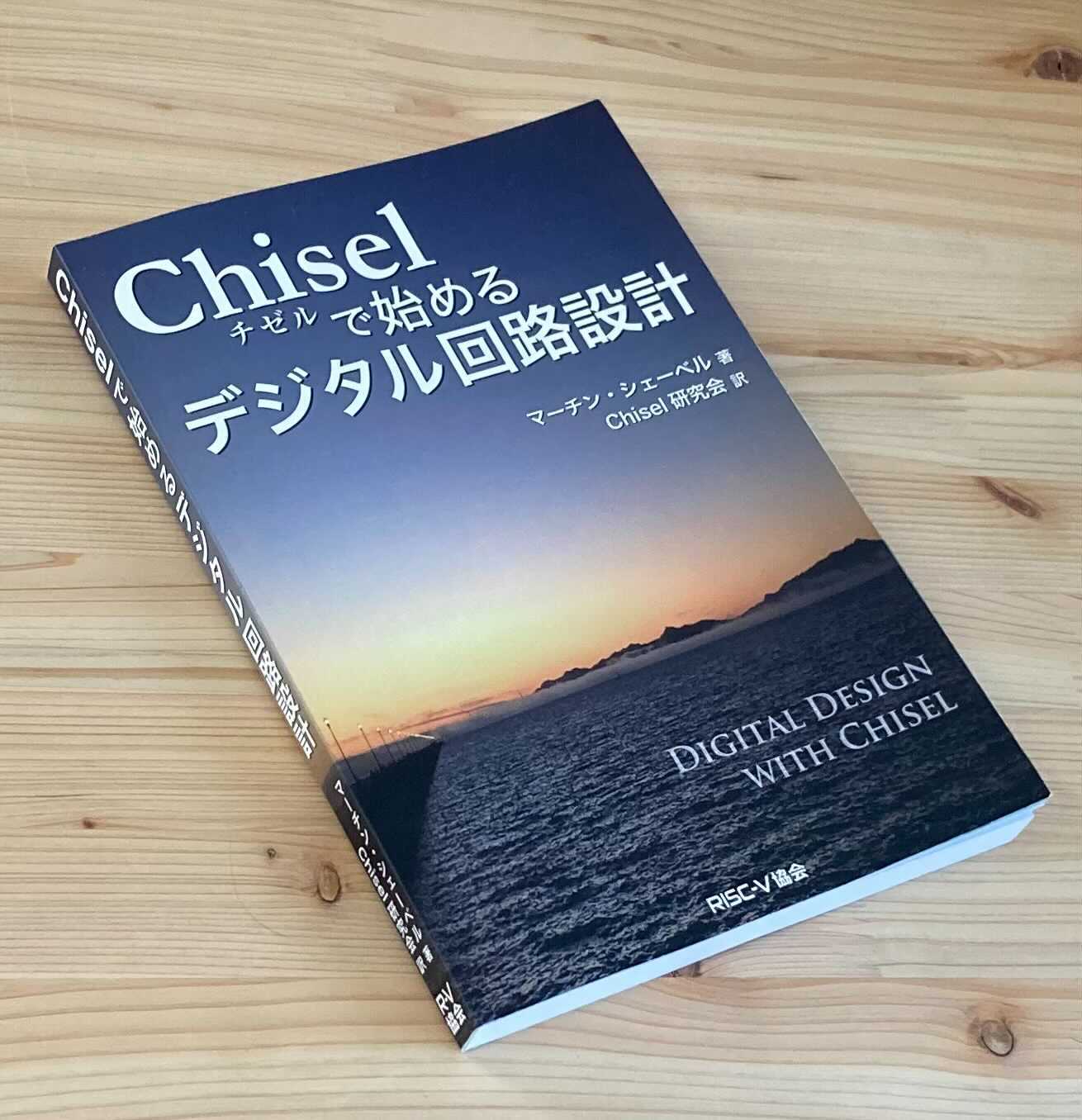 Chiselで始めるデジタル回路設計』マーチン・シェーベル著、Chisel勉強会訳
書籍コード:ISBN978-4-9912338-0-7 分野コード:C3055
発売日:2022年5月31日 第一版第2刷 発行
取次:西村書店
発行:一般社団法人 RISC-V協会
価格:2,200円(税込)
秋葉原 書泉ブックタワー、新宿 紀伊国屋書店 早稲田大理工書店、本郷 東大本郷店、日吉 慶応日吉店、世田谷 東大駒場店、調布 電通大、赤羽台 東洋大学、埼玉 日本工業大、名古屋 名古屋工業大 名古屋大B.F.、千葉 千葉大生協ブックセンター、仙台 東北大工学部(TB)、大分 大分大、熊本 熊本大学館、長崎 長崎大・文教店、北九州 九州工業大学・戸畑店、福岡 九州大イースト1号店 などでお買い求めになれます。
The RISC-V Association has campaigned to translate RISC-V publications such as "RISC-V Original" (2018) and "Computer Architecture: Quantitative Approach" (2019).