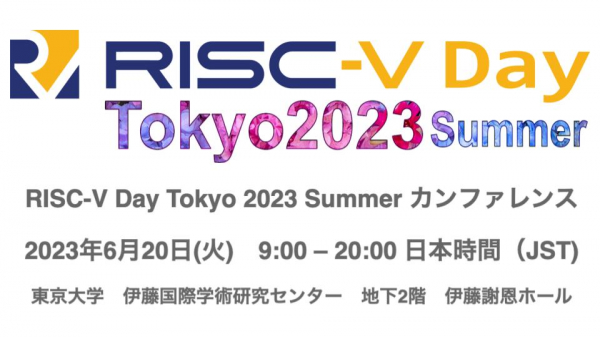 In this article, following the announcement in the press release released on April 13, 2023, and the release of the call for poster session applications on April 24, 2023, we are announcing the release of the program content on May 12, 2023.
"RISC-V Day Tokyo 2023 Summer" is the largest RISC-V event in Japan, designed to explore the diverse aspects of RISC-V technology development. It serves as a framework for expanding the influence of RISC-V globally and especially within Japan.
Background:
RISC-V is an instruction set architecture (ISA) of the RISC processor developed in 2010 by a team led by Professor Krste Asanovic at the University of California, Berkeley. Unlike the ISA of UK's Arm, RISC-V is designed as an open standard, and its adoption is still increasing exponentially more than a decade after its release.
What is noteworthy here is that many IP companies adopt a single RISC-V instruction set and develop processors using a common software infrastructure. Arm, with a single company and a small number of partners, has built a hardware IP license business, a fabless logic semiconductor design flow, and a software infrastructure over the course of 30 years. This is undoubtedly a significant achievement. However, more than 20 processor IP companies and processor chip companies designing and selling RISC-V processors have built a business in the hardware IP license field and chip field that approaches the scale of Arm's sales in just eight years, leveraging these mechanisms built by Arm and cooperating with over 2,000 corporations supporting RISC-V.
Currently, nearly all 5G mobiles circulating in the global market incorporate RISC-V. Emerging companies are adopting RISC-V for CPUs for data center AI accelerators, and existing companies are also adopting a large number of RISC-V MCUs for data center AI accelerator chips. Android has traditionally been based on Arm, but that paradigm is starting to shift. Google has quietly begun to support the development of a RISC-V-based Android.
In Japan, Renesas Electronics is actively promoting the adoption of the RISC-V core, which has resulted in a rapid increase in interest in the RISC-V core. Particularly in recent years, China, against the backdrop of US-China confrontation, has shown strong interest in RISC-V, and this trend is becoming clear. While RISC-V is widely used in Japan, electronic cigarettes stand out as a prominent application area. In this program, companies supporting such application areas will also take the stage. Arm lacks flexibility in licensing fees, and in the flash MCU field, which sells at low prices, RISC-V microcontrollers are showing signs of becoming mainstream. Recently, a 32-bit RISC-V flash microcontroller chip product priced at 25 cents has also appeared.
However, it is well known that the acceptance of RISC-V is not limited to China and is being widely adopted in India and South Korea. These countries are proactive in adopting new technologies, and RISC-V is a prime example.
Thus, RISC-V, with its openness and flexibility, is widely supported by companies and researchers around the world. As a result, the era has come when RISC-V is used in various devices and applications. The RISC-V Association will continue to watch over the process of its evolution and diffusion.
What is characteristic about this program is as follows: The Ministry of Economy, Trade and Industry holds regular Semiconductor and Digital Industry Strategy Study Meetings, and as one of the topics,
We are deeply grateful to be able to hold "RISC-V Day Tokyo 2023 Summer". Following last year's "RISC-V Days Tokyo 2022 Autumn", we look forward to sharing with you again on this stage the latest trends and advance research results of RISC-V. This conference is the largest RISC-V conference in Japan and serves as the best technical PR and research presentation opportunity for RISC-V suppliers.
In various fields, including AI and IoT, RISC-V-related technologies and products are rapidly evolving, and their potential is expanding. This conference provides an excellent opportunity for the key people and engineers behind these excellent technologies and products to gather.
RISC-V Day Tokyo 2023 Summer aims to facilitate the development of the RISC-V ecosystem through activities such as improving product recognition, realizing inter-company collaboration, technical exchange, and information gathering. We are looking forward to this opportunity where representatives from various industries gather, learn from each other, share, and form new ideas and visions.
Please wait for further details to be released in the coming months. RISC-V Day Tokyo 2023 Summer will be a wonderful platform for sharing the development of the RISC-V community and a step towards its future.
Relationship Between Our Country's Challenges and RISC-V
Challenge 1: Mitigating the Explosive Increase in Electricity Demand Due to Data Centers:
The Ministry of Economy, Trade, and Industry regularly holds meetings to discuss the strategy for the semiconductor and digital industry, aiming to share information about changes in the environment of this industry and seek directions for industrial policies that will achieve sustainable economic and social growth. At a meeting held on April 3 this year, it was highlighted that the electricity consumption of data centers in Japan accounts for 4% of the country's total electricity demand. This is a higher proportion than in the United States, where the power consumption of data centers is said to be 1%, indicating that Japan is one of the countries with a high power demand ratio for data centers.
Moore's law (the principle that the density of semiconductors doubles every 18 months to 2 years, but the performance improvement associated with the increase in transistors does not lead to an increase in power consumption) reached its physical limit in 2015, and how to deal with the increase in computing demand due to AI has become a new social issue.
Approaches are being sought to reduce power consumption without relying on the miniaturization of semiconductors, such as fundamentally reviewing architectures, methods, and software. Startups are emerging to tackle these challenges.
The software infrastructure needed for AI computation is built by tensor numerical computation software, and the scale of this software is vast and its contents are complex. Only a handful of super large companies in the world, such as Intel, NVIDIA, Google, and Microsoft, have the capability to rewrite such software, and it takes many years to develop.
However, some people believe that it is difficult to balance AI computation and power demand by just maintaining existing software and hardware, and they are seeking new reforms. Some of them are forming startups based on RISC-V, persuading capitalists, and trying to advance technological reforms. At this "RISC-V Day Tokyo", we have invited these people to share their perspectives and efforts. We hope that their new approach will pave the way to solve the problem of AI computation demand and power consumption.
Challenge 2: In-house Design of Custom Semiconductors to Enhance the International Competitiveness of Domestic Electronic Industries:
In the current global supply chain of the electronics industry, the development of semiconductor IPs, chip design, manufacturing, substrate production, system integration, software integration, etc., are distributed among various countries. In this, some countries that handle parts of the supply chain accumulate specialized knowledge and production capital in that specific area, tending to solidify parts of the supply chain in specific countries.
On the other hand, early detection of rule changes that occur in this international division of labor and research and responses to maintain and improve the international competitiveness of domestic companies are necessary. A game-changer in the electronic supply chain that the RISC-V Association is paying attention to is the "OpenROAD Project" promoted by the US Department of Defense's DARPA and major companies such as Google. This project enables the development of custom semiconductors at a very low cost, presenting a new paradigm.
We believe that it will sooner or later be possible for even small domestic companies to design and prototype custom semiconductors. Currently, products are often developed with technologies that depend on foreign supply chains, such as standard semiconductors, custom boards, software, and systems. In the future, it is expected that companies will need to gain basic cost advantages by materializing their own technologies as semiconductors and software. For domestic companies that continue to explore new possibilities, such projects and the design and manufacturing of custom semiconductors should help find new opportunities hidden in mature electronic capitalism. From this perspective, at "RISC-V Day Tokyo", we have invited as guest speakers companies that are willing to undertake these challenges as startups or large corporations.
In the context of a shifting global supply chain and the ongoing search for energy efficiency, the use of open source technologies like RISC-V could provide a means for companies to maintain control over their own technological destiny. This would allow them to innovate and compete more effectively in a global landscape that is becoming increasingly dependent on advanced digital technologies.
The "OpenROAD Project" is a particularly promising initiative in this regard, as it seeks to lower the barriers to entry for custom semiconductor design. By providing access to sophisticated design tools and methodologies, the project could enable a broader range of companies to develop their own custom semiconductors. This would not only increase the competitiveness of these companies, but also potentially lead to a greater diversity of products and solutions in the marketplace.
In conclusion, the issues of power consumption in data centers and the strengthening of the international competitiveness of the domestic electronics industry through custom semiconductor design are significant social challenges that are closely related to RISC-V. At "RISC-V Day Tokyo", we look forward to discussing these issues and exploring potential solutions with a diverse group of stakeholders. We believe that the sharing of knowledge and ideas at this event will be a valuable step towards addressing these challenges and shaping the future of our country's digital economy.
Challenge 3: Strengthening the Security of Domestic IoT Systems and the Role of RISC-V:
In January 2023, the Ministry of Land, Infrastructure, Transport and Tourism suspended the operation of 199 river surveillance cameras due to suspicion of unauthorized access. Further investigation led to the suspension of a total of 337 cameras, including those installed by the same operator. These cameras were stopped because of confirmed security lapses such as unchanged default passwords and a lack of access restrictions on communication ports. The halted cameras were part of the "simplified river surveillance cameras" that account for about 5,000 out of approximately 10,000 nationwide. Whether unauthorized access occurred to the other cameras beyond the 199 ones with confirmed abnormal communications is still unclear.
In the United States, the struggle over public-key cryptography to protect modern IoT was at the citizen level. In the 1980s and 1990s, the civilian cryptographic community worked to protect the use of private encryption as a civil right. This led to achievements that later contributed to the protection of internet and smartphone privacy. Public-key cryptography is part of the civil rights struggle in the US, and it's common for freshmen in humanities departments at universities to learn about the concept of public-key cryptography and Kerckhoffs's principle, proposed in the 19th century. However, in Japan, some major corporations excluded public-key cryptography to commercialize symmetric encryption in the 1990s, and it seems that public-key cryptography was seldom adopted outside technologies that prioritize interoperability with foreign systems like the Basic Resident Register and passports.
As a result, the perception that public-key cryptography and Root of Trust functions are necessary for IoT security is not widespread in Japan. While smartphones and many consumer devices in Korea and the US incorporated Root of Trust functions in the 2010s, there were cases where the initial Japanese smartphones did not have sufficient features.
RISC-V, which was born just after the Root of Trust function appeared in the market, naturally cooperates with security. Therefore, many security chip suppliers are adopting RISC-V, which is increasing its importance for security measures.
In response to this trend, several companies with RISC-V-based security technology will participate as sponsors at "RISC-V Day Tokyo". This is expected to deepen understanding of RISC-V and its use for security measures and raise expectations for its widespread adoption.
These developments are an important step towards strengthening Japan's IoT security. Especially in Japan, where the necessity of public-key cryptography and Root of Trust functions is not recognized, this can provide a new perspective and potentially prompt a reexamination of security measures.
In conclusion, RISC-V can greatly contribute to enhancing the security of Japan's IoT systems. This is because it provides an opportunity to review the approach to security measures and initiate new efforts. There are high expectations for future developments.
Related article: https://xtech.nikkei.com/atcl/nxt/mag/nc/18/020600011/042800131/
About the speakers and contents:
The scheduled speakers and content of the talks are tentative titles set by the organizers. The provided times are provisional, and for detailed presentation information, please visit the official website "https://riscv.or.jp/risc-v-day-tokyo-2023-summer/" at the appropriate time. Honorific titles are omitted.
Start-End Presentation Time | Topic | Speaker
8:30-8:50 20min | Registration & Welcome Coffee | Organizers
8:50-9:00 10min | Opening Remarks | RISC-V Association
9:00-9:25 25min | Opening: Japan's Digital Industry Strategy and Semiconductor Fab | Hisashi Saito | Assistant Director, Commerce and Information Policy Bureau, Information Industry Division (Technical Charge) (Scheduled)
9:25-10:05 40min | Keynote Speech: The Future of AI and RISC-V Technology (Invited Lecture) | Jim Keller | Tenstorrent (USA)
10:05-10:30 25min | TBD | TBD
10:30-11:00 30min | Networking & Coffee Break | RISC-V Association
11:00-11:25 25min | RISC-V Security: Hardware-based Solutions | Andes Technology (Taiwan)
11:25-11:50 25min | ChipIgnite Program: Even an 8-year-old child can chipify FPGA design (Invited Lecture)| Mohamed Kassem | CTO, eFabless.com
11:50-12:15 25min | About GigaDevice's RISC-V Flash Microcontroller Products and Development Tools | GigaDevice (China)
12:15-12:55 40min | Custom RISC-V Solutions Covering Both Software and Hardware Provided by Codasip | Codasip (Czech Republic)
12:55-13:55 60min | Lunch Break (On-site Metro Cafeteria, Exhibition Visit, etc.)
13:55-14:35 40min | Imperas' RISC-V Design Support Tools that Support RISC-V Technology from the Ground Up | Imperas (UK) / eSOL Trinity (Japan)
14:35-15:00 25min | Chip that Can Implement WiFi, Bluetooth, and AI with RISC-V | espressif (China)
15:00-15:25 25min | Japan's First ArchiTek's RISC-V Chip and AI System are Already in Mass Production | ArchiTek (Japan)
15:25-15:50 25min | Introduction of NSITEXE's RISC-V Products and System Products | NSITEXE (Japan)
15:50-16:10 20min | Networking & Coffee Break | RISC-V Association
16:10-16:35 25min | High-Reliability RISC-V Tools and Security Solutions from IAR Systems | IAR Systems (Sweden)
16:35-17:00 25min | RISC-V Debugging and Perfect Trace Solutions | Japan Lauterbach (Germany)
17:00-17:25 25min | Vision System Solutions from Imagination Technologies | Imagination Technologies (UK)
17:25-17:55 30min | Networking & Coffee Break | RISC-V Association
17:55-18:35 40min | Keynote Speech: TBD | TBD
18:35-19:00 25min | Tenstorrent Data Center AI Accelerator Current Generation, Next Generation | David Bennet | Tenstorrent (USA)
19:00-19:45 45min | Panel Discussion: Content is Currently Being Adjusted | Moderator: TBD | RISC-V Association Panel | Panelists: Jim Keller, Ministry of Economy, Trade and Industry, others
19:45-19:55 10min | Closing Remarks | RISC-V Association
19:55-21:00 65min | Networking & Farewell Party
Note: TBD stands for "To Be Determined", meaning it has not been decided yet.
Event Name:
RISC-V Days Tokyo 2023 Summer
Date and Time, Method:
June 20 (Tuesday) 8:30 – 21:00 (Japan Time) – Full Venue Format
Registration Site: https://peatix.com/event/3553721
Conference Information Site: https://riscv.or.jp/risc-v-day-tokyo-2023-summer/
Social Media:
Web: https://riscv.or.jp/
Twitter: @riscv_a
Slack: https://risc-v-association.slack.com
Facebook: https://www.facebook.com/riscv.a
Sponsors (Tentative)
Codasip (Czech Republic), Tenstorrent Japan (USA), Imperas Software Ltd. (UK) / eSOL Trinity (Japan)
Andes Technology (USA), espressif (China), GigaDevice (China), NSITEXE (Japan), IAR Systems (Sweden), Imagination Technologies (UK), ArchiTek (Japan), DTS Insight (Japan), Japan Lauterbach (Germany), Kyoto Microcomputer (Japan), VeriSilicon (China)
Collaboration
RISC-V International (Switzerland), RISC-V Association (Japan), Embedded Systems Technology Association RISC-V WG (Japan)
Collaboration Content: Support for conference held by members of the RISC-V Association
Organizer and Operator: SH Consulting Co., Ltd.
Office Location, Phone Number, Postal Code, Contact Person
Postal Code 104-0061, 7-18-13-502 Ginza, Chuo-ku, Tokyo
Toshihiro Kawasaki (Representative)
Yasuyuki Saito (Secretariat)
Phone: 03-5565-0556, E-mail: yasuyuki<dot>saito<at>riscv<dot>or<dot>jp