Embedded Systems Technology Association (abbreviation: JASA) is "Opened" at ET & IoT Technology 2019, a comprehensive exhibition of embedded and IoT (Internet of Things) related technologies to be held on September 3, 2019 and November 20-22, 2009 "CPU Architecture Pavilion" is planned. The following shows an example booth.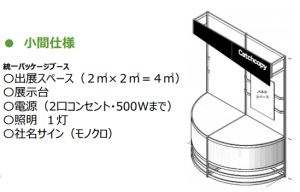 Related URL: http://www.jasa.or.jp/expo/pdf/OpenCPU_architecture_pavilion_guide.pdf
Domestic and overseas companies providing RISC-V and MIPS-related technologies are looking for exhibitors at the pavilion. This post is a notification email to learn about the interests of RISC-V Foundation companies and companies with RISC-V related products or services for participating in the "Open CPU Architecture Pavilion."
JASA will hold a pavilion / booth at ET 2019. Includes a mini demo booth and a theater for participating members. The RISC-V Association seeks to achieve it in the most cost-effective way possible. Includes mini demo booth, signage, monitor and theater speaking slots.
If a RISC-V related company is interested in participating in , please let us know.
Please reply directly to info<at_mark>swhwc.com(+81-3-3833-3717).
RISC-V Association (RISC-V Foundation corporate member volunteers)
Shumpei Kawasaki
riscv-association.jp