---
| | |
| --- | --- |
| SHC RISC-V Demo: Features Andes N22 and SiFive HiFive1 RISC-V connectivity with Amazon AWS IoT Service Platform | Summary PDF |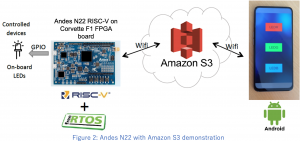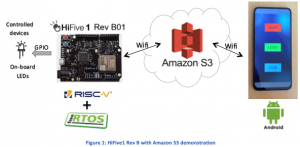 booth schedule:
10am-4pm Sept 18

booth attendant:
Hoan Huynhvu

In 2019 engineers at SH Consulting Vietnam (SHCVN) created a series of demos to show the power of IoT Cloud Service. One of the demos was RISC-V based Amazon AWS IoT Cloud Platform. Using RISC-V tools SHC engineers ported FreeRTOS RISC-V. It is so simple to write applications on RISC-V SoC to interact with Android application via AWS IoT Core service. RISC-V customer can immediately utilize the rich functions of Amazon's AWS Cloud, which include vision classification, voice recognition, machine learning, database and cloud debug facilities with little effort.
---
| | |
| --- | --- |
| Adopted Chipyard Framework for Bayesian Neural Networks Training Accelerator Development | |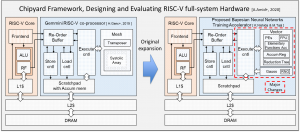 booth schedule:
10am-4pm Sept 18

booth attendant:
Nishida Keigo

Please press here for pdf demo document.

A powerful development environment is essential for co-development of dedicated hardware and new algorithms in small teams. Chipyard is a framework developed by UC Berkeley that makes it easy to develop RISC-V based custom SoCs. It contains an integrated SoC design, simulation, and implementation environment. We are developing a novel Bayesian neural network training accelerator using the Chipyard framework. In this session I give a brief introduction to our recent R&D project using the RISC-V ecosystem.
---