Hello!
When we talk about RISC-V Global Forum, we talk about Technology. Opportunity. Community.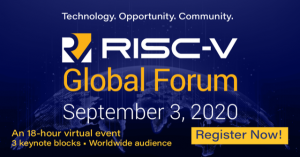 The
schedule
is published and we have an exciting lineup of keynotes, session presentations, ask the experts, sponsor exhibits and networking opportunities. Below you can find all the exciting information about how to interact in our Global Forum digital experience.
The event is fully virtual, bringing together a worldwide audience with 18 hours of content that includes three keynote blocks, concurrent sessions, and exhibit opportunities. All the keynotes and sessions are pre-recorded and presented in a scheduled time slot, leaving the presenter(s) free to talk to you via live Q&A!
Our sponsors will be sharing their latest innovations and product information in their virtual booth. There are also opportunities to collaborate with peers during the breaks, ask the expert sessions, and games with the opportunity to earn prizes.
Join the RISC-V Global Forum as we break down technical barriers and disrupt traditional microprocessor business models through global collaboration. Hear from industry thought leaders, engage with your peers, and join the community!
'See you' at RISC-V Global Forum!
RISC-V Team